Ocelot



Type

Passive

Health

Drops

None

First Appearance

Update 0.12.1
Ocelots
are
Passive Mobs
added in
Update 0.12.1
.
Spawn
Ocelots will only spawn naturally in Jungle Biomes, but they can wander out of them which allows the Player to then find them outside of the biome.
Taming
Ocelots can be tamed by feeding them 1-12 Fish. However, unlike Wolves, the Player must wait for the Ocelot to approach them. If the Player moves too quickly towards the Ocelot, it will sprint away. It is best to sneak when approaching an Ocelot.
Types of Cats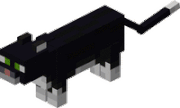 When tamed, Ocelots become one of three different breeds of cats:
Tabby (Orange)
Tuxedo (Black with white)
Siamese (White and Gray)
Defense
Creepers will run away from both Ocelots and Cats, even if provoked by the Player, making Cats a great defense against a Creeper, although a Creeper can still blow up players and nearby Ocelots within the range of its explosion.
Trivia